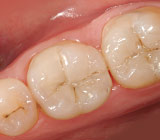 Tooth-colored fillings are just one of the many ways that cosmetic dentistry has evolved over the past few decades. There was once a time where having a cavity treated meant that you would be left with a noticeable metal filling. However, today we have an array of tools and materials available that help make tooth repair more like creating a fine piece of art.
Tooth-colored fillings are made of composite resin, which is a mixture of plastic and glass. Composite resin is not only more aesthetically pleasing, but also better for your teeth than metal fillings. Metal fillings can require your dentist to remove healthy parts of your tooth to create a ledge (undercut) that locks the filling in place. Tooth-colored fillings do not need this undercut to stay in place. In fact, they physically attach, or bond, to natural tooth structure. The procedure is also very simple. We'll apply the composite resin directly to your teeth, sculpt it and then finally harden it with a special light. When you see the results, you will be amazed at how natural and lifelike the restoration appears.
Another advantage of tooth-colored fillings is that they are strong and flexible. When you bite or chew, they will absorb and transfer the forces, just like your natural teeth. Metal fillings are strong, but they are also stiff, which can stress your teeth and make them more susceptible to cracking.
During your examination, we will evaluate if tooth-colored fillings are the best tooth repair option. If your cavity is too large for composite resin, we may recommend a porcelain filling. This procedure may require two appointments: the porcelain filling will be crafted in a dental laboratory, and we will then place this filling at your next visit.
If you would like more information about tooth-colored fillings, please contact us for a consultation. You can also learn more by reading the Dear Doctor magazine article "The Natural Beauty of Tooth-Colored Fillings."