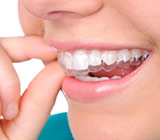 As soon as the braces come off, many people feel that the hard work in getting a new smile is all done. But wait! There's one critical piece of the process that remains: the orthodontic retainer. What makes this little device so important?
To understand that, let's look at how your teeth are attached, and how they may move. A tooth isn't anchored into the jaw like a screw in wood — it's joined to its bony housing by a unique, hammock-like suspension system called the periodontal ("peri" – around; "odont" – tooth) ligament. The periodontal tissues are living, constantly changing and renewing themselves.
Orthodontic appliances like braces are designed to apply just enough pressure to move the teeth slowly and steadily into new positions. As the teeth are moved, the periodontal tissue gradually re-forms around them, helping to hold them in their new locations.
But tooth, bone and gum tissues also have a "memory" which, if left alone, tends to move the teeth rapidly back to their original places. This unwanted movement gradually lessens, but it can be an issue for a long time after treatment. That's where the retainer comes in.
This little device holds the teeth steady in their new positions until the bones and ligaments have had enough time to re-form — a development that can take several months. It brings the entire process of moving the teeth to a gradual close, helps to prevent trauma and to maintain proper tooth location.
Once, all retainers were made of plastic and wire, and all were removable. These are still popular, and are usually worn 24 hours a day at first, then less often, until (after a period of time) they're only worn at night. Alternatively, in many cases a thin wire can be bonded to the inside surfaces of the front teeth. This type of retainer doesn't show, and it doesn't have to be removed.
How long will you have to wear it? It's hard to say. Teeth are kept in position not only by bone and ligament, but also by a balance of forces between the tongue, lips and cheeks. They aren't permanently fixed in place, but can move over time in a way that's unique to every person. Depending on the type of tooth movement done, we can recommend what type of retainer is right for you, and how often to wear it. Having the right retainer will help ensure you get the best result: a great new smile.
If you would like more information about orthodontic retainers, please contact us for a consultation. You can also learn more about this topic by reading the Dear Doctormagazine articles "Why Orthodontic Retainers?" and "The Importance of Orthodontic Retainers."