Tooth Implant Dentistry In Fresno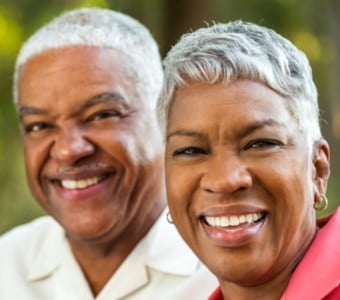 If you've ever lost a tooth which left a gap in your beautiful smile, we have some wonderful news for you. Using a modern dental technology called implant dentistry, we can successfully replace missing teeth permanently, right here in Fresno, CA. Dr. Art Mirelez, DDS, is one of the most decorated dental implant dentists in the industry, and has received numerous designations from a variety of professional institutions for his work in the field of implant dentistry.
What are Dental Implants?
A tooth implant is a synthetic tooth root that is made of titanium or a metal alloy. Dental implants are inserted into the jawbone, and act a bit like a natural tooth root, which provides us a great place to anchor a dental crown or other dental apparatus.
By anchoring a dental crown to the tooth implant, we can effectively create a "new" tooth to replace the missing one. This is not the only way we can use dental implants and implant dentistry however, and dental implants have a number of great benefits. Some of the benefits of dental implants include:

Benfits & Advantages of Dental Implants
Permanence and versatility | Dental implants are a permanent tooth replacement solution, as they are anchored in the jaw and with a tooth crown function much like a natural tooth. In addition, dental implants can be used to anchor permanent dentures including All-In-4 implant supported dentures.
Strength | A tooth implant acts a lot like a natural tooth root, because it helps provide support to your jaw. When a tooth is extracted, it can cause your jaw to become weakened, and over time your jaw can deteriorate. By using implant dentistry you can help restore some of the support to your jaw and help prevent more deterioration.
Appearance | Dental implants and implant-supported bridgework will have the exact same color and texture of your natural teeth. So nobody will be even able to tell that you have dental implants and you can go back to smiling like you have nothing to hide!
We are proud to offer dental implants as one of the many services we have available at Mirelez Wellness Dental near Clovis and Fresno. Our team is skilled at placing both dental implants and mini dental implants, so if you choose Mirelez Wellness Dental for your implant dentistry procedure you will receive high-quality dental care.

Have any questions about dental implants? Contact us today if you are in the Fresno area, including the communities of Madera and Clovis!
---
CeraRoot Implant Description
CeraRoot dental implants are placed at the same level as the gum. The color of the implant is white so it does not produce any discoloration of the gum. This type of tooth implant does not suffer corrosion.
This "gum level" connection has been proven to be cleaner and more beneficial for both the gum and bone. The patient is able to brush this area with a regular toothbrush, making this an odor-free implant.
The all-ceramic crown or bridge is connected to the all-ceramic CeraRoot implant.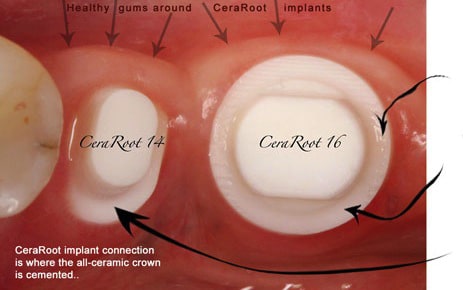 Ceramic Dental Implants in Fresno
CeraRoot ceramic tooth implants are placed at the gum level. The implant is white so there is no discoloration of the gum.
The "gum level" implant connection is cleaner and more beneficial for the gum and bone. The patient is able to brush regularly, making this type of implant odor-free.
The all-ceramic dental bridge or tooth crown is connected to the all-ceramic CeraRoot implant.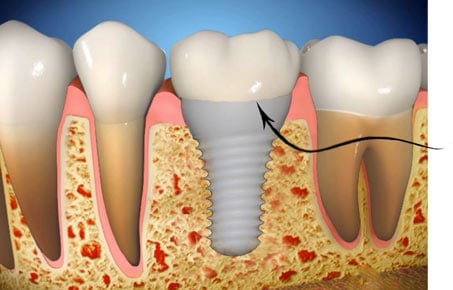 Joan Hayes
I had no teeth and it was hard to chew. I had a partial that flipped around in my mouth. I feel great about my new teeth, it's like having my own teeth back. It's nice not to have your teeth out to brush them. I can eat anything and even chew gum. The implant process may be long, but it's well worth it. Dr. Mirelez and the staff are great. My implants look and feel very natural I would recommend Implants to whoever is losing or has lost any teeth.
Joan Hayes
Barbara Vaughn
My front tooth fractured off at the gum line. We decided to do an implant to close the gap. I am glad we decided to do an implant. It took a while, but I do not regret it. Dr. Mirelez is a very good dentist and he has taken most of my fears away. My life is so much better now. I can smile and feel comfortable and I love it. If you are considering Dr. Mirelez's implant dentistry, I would say, "do it, he is very good!" Dr. Mirelez is the best dentist I have ever gone to and I had a gone to a lot of them.
Barbara Vaughn
Carol Owens
Dr. Mirelez is a dental artist. Even if I thought my implant crown was fine, he would not accept it until he thought it was perfect. It's difficult to match a front tooth, but he did it! We are so fortunate to live in a time when implant procedures are possible. I'm very thankful for Dr. Mirelez!! My teeth are BEAUTIFUL!!! I love how my teeth look! My fears were needless for no one can tell I have an implant for one of my front teeth. My new front tooth implant looks so good, that I can smile once again with confidence. It looks and feels so natural. With my perfect implant, I can smile big & confidently. I can eat anything now with no problems at all. Since I feared having a missing front tooth, (for reasons of vanity – both professionally personal appearance) I am greatly relieved to have a new tooth which looks so perfect and natural that I forgot it's an implant. I would definitely recommend Dr. Mirelez to anyone who is considering implant dentistry. I thank God for Dr. Mirelez.
Carol Owens
Retired Teacher
Implant Patient
Before Dr. Mirelez changed my life, I was miserable. Many of my teeth were loose in my jaw bone, which limited what and where I could eat or even smile. I was embarrassed and had a lack of self-confidence due to my deteriorating bone and teeth. Although I am generally a very happy person, I never smiled and was often depressed. I am 50 and was not ready for traditional dentures on a long-term basis…I am too young. I had 12 implant placed to hold onto my new fixed crowned teeth. I now feel AWESOME and I can smile all the time and not worry or be embarrassed. I can eat in public again, including some of my favorite foods I had not been able to eat for a very long time…ribs, and corn on the cob, and steak…you get the idea. I certainly eat all of my favorite foods…sometimes too much. My new teeth look so real…no one can tell they are not my original teeth. I love to smile and feel great about how I look. Dr. Mirelez's implant dentistry has changed my quality of life for the best…my self-confidence is back.
Implant Patient
Kari Traxler
I went through years of misery and Dr. Mirelez gave me my enthusiastic life back. His office staff is excellent…there is none better. Dr. Mirelez and his staff met me more than once during his vacation time, off days and even during the holidays. I never was in doubt of the professionalism and personal attention given to me throughout the process. Dr. Mirelez was always there for me in my cheering section. After having the permanent fixed denture installed, I am ecstatic with the results. As I stated above, I can and do eat everything and I am smiling much more. I am so excited when someone who is unaware that I have a brand-new smile (thanks to Dr. Mirelez), compliments me on my smile…and three people have in the past thirty days. Just how do others know that I really appreciate their compliments? I only smile and say, "Thank you…I can not take credit for the beautiful teeth and smile, they are a result of the very hard work and dedication by my dentist, Dr. Mirelez." I am honored to share my experiences with those of you who are considering implant dentistry either through testimonial, over the phone or even in person…I have been blessed to have started and completed this procedure with Dr. Mirelez…his caring and personal attention to me will always be appreciated. Expect perfection, as that is what you will receive from Dr. Mirelez.
Kari Traxler
Business Owner
Kittie Kanzler
I had an abscessed tooth that was an anchor for my bridge and it wasn't fixable. I hate surprising pain, so I decided to get it fixed. My new were teeth solid and look better than my old bridge. Dr. Mirelez told me exactly what to expect during the procedure. Implant dentistry sounds worse than it is. Just take one step at a time. It's worth it! Dr. Mirelez was very gentle, concerned and very capable. He even checked on me at my home. My teeth look cared for and healthy. I always smile now! And I'm glad it was done! Unfortunately, I really enjoy eating again. I can chew without worries! Everyone in the office is so pleasant to deal with.
Kittie Kanzler
Retired
Lionel Zozaya
I had a nice smile and then had a traumatic accident that messed up my smile. I chose to get implants and veneers to fix it and I love them. So far I had a friend who is going to Dr. Mirelez. I would recommend Dr. Mirelez and if you are not sure you can have a look at my smile. My teeth look great and I think my smile is awesome! Dr. Mirelez's implant dentistry got rid of my gap and helped me feel better about myself. Dr. Mirelez's staff is awesome and I love the service. Dr. Mirelez helped me to regain my self-confidence. Thank you, Dr. Mirelez!
Lionel Zozaya
Construction worker
Tina Mizuno
Before my implant, I appeared to have a "snag tooth" appearance in my photographs. Now, my appearance has improved to how I looked before losing the teeth. Dr. Mirelez was very thorough in explaining the procedure. He makes it as simple as possible and is excellent at his craft. If you are considering Dr. Mirelez, I would tell you that he is an outstanding dentist that guides you through the process. My new teeth look super! As far as my smile goes, I Love it! It's what I do most of the day my teeth were restored to "what used to be" which is great at my age----64. Dr. Mirelez's team is exceptional. Thank you, Dr. Mirelez!!
Tina Mizuno
Retired Teacher
S.D.
I'm better than I've been in 6 yrs! I had missing teeth and a bad bite. I feel 100% better. I had no pain, swelling, or bruising. I appreciate how I was treated here. Great doc, staff and treatment. Thanks everyone! I'm happy I did it.
S.D.
Erik H
I have nothing but good things to say about this place. My full bridge implants have made such a positive impact on my life. I never thought it would be something I would be able to have done, but they will work out a financial plan that works for you. What has stuck with me the most is how attentive the ENTIRE staff is. I never felt rushed, or like I was just another nameless patient. Each visit I had Dr. Mirelez took the time to answer all of my questions and give me the help I needed. This team genuinely cares about their patients. On top of all that, my new teeth are fantastic!!! Thanks for everything Mirelez dental!
Erik H.
Lauryn M.
This has been my best experience with any dentist ever. I was born without my top 2 lateral teeth. It has been a terrible struggle finding a way to hide such ugly spaces in my smile. After a bad experience with an orthodontist that didn't leave enough space for implants, finding an alternative solution seemed nearly impossible. My mom and I tried many different places that turned me down. That's when we finally found Dr. Mirelez. He helped me find the best option for me, a Maryland Bridge. The process has been so easy because the people there are awesome. They always make sure I'm comfortable and happy. They even remember my name each time I walk in. This is a great place; I highly recommend it.
Lauryn M.
Erik H.
Amazing experience. Before my procedure (Full row of upper teeth implants) they took the time to explain everything very clearly and answer all my questions. There was no rush to get somewhere else, taking the time to make sure they had answered everything. I really respected that. Afterwords very attentive and helpful with questions and what do to. A+, golden star. Fantastic job!!!
Erik H.
Contact Us for Dental Implants in Fresno Today!
Dr. Art Mirelez and his expert team are highly trained in all of the latest dental implants procedures. If you have questions about dental implants, implant dentures, mini dental implants, or Zirconia dental implants, please contact us today!