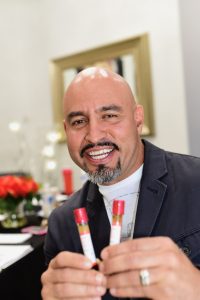 When gums have shrunk away and the root is exposed, the Gum Drop Technique may be the solution you are looking for. If your teeth are sensitive to extreme temperatures or you just don't like the appearance of your teeth, the Gum Drop Technique can help!
Gum Drop Technique is a root coverage procedure using natural biological healing factors PRF and PRP. This is a natural regenerative technique where we use the patients' own blood, centrifuge (spun at specific RPM's), and utilize it under receding gums.
Blood derivatives is the solution for our patients with strong beliefs against the use of cadaver or animal biomaterials. The procedure is performed using a small piercing instrument comparable with laparoscopic surgeries in medical field. The gums will advance "drop" towards enamel where they belong. Patients natural healing PRF & PRP is then injected to help gums attach to the new normal position.
The survival of the graft is directly correlated with the blood supply which is the key component for regeneration and is mandatory for cellular function and wound healing. Thus, the reason we've opted to bring the most advanced science to our patients with PRF & PRP, the Gum Drop Technique.
Top Reasons For Gum Drop Technique
1.Less invasive, no donor sight
2.Faster healing
3.Less post-operative discomfort
4.100% Biological
5.Great shade match
6.Multiple teeth with recession can have treatment at once
7.Faster technique
8.Safe and Predictable
What to expect:
1.First visit: comprehensive dental exam including your periodontal status, photos and x-rays
2.Periodontal status needs to be stabilized and healthy before any GDT procedure is performed.
3. If you are a good GDT candidate Dr. Mirelez will prescribe you specific medications to avoid swelling and minimize discomfort prior to treatment.
4. We will use your own blood during surgery to fabricate fibrin membranes. It is important that you are well hydrated.
5. During recovery time you will experience some minor discomfort, swelling and possibly some bruising, all of which is manageable with over the counter meds.
Have any questions regarding the Gum Drop Technique by Dr. Mirelez? Give us a call today!