Find Your Cosmetic Dentist Right Here In Fresno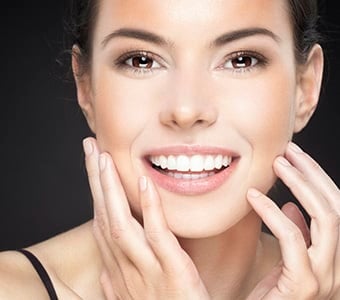 If your smile is not all that you want it be, and you feel like it could use some work to become the perfect smile of your dreams, at Mirelez Wellness Dental near Clovis and Madera we can help. We are a cosmetic dentist with a full line of cosmetic dentistry services designed to assist you in getting the perfect smile of your desires.
Cosmetic dentistry is a branch of dentistry focused on improving the beauty of your smile. There are many types of services a cosmetic dentist can provide, but they all have one thing in common – they are made to make smiles more beautiful.
At Mirelez Wellness Dental in Fresno, we offer a wide range of cosmetic dentistry services.
Some of the cosmetic dentist services we offer include:
Teeth Whitening | Having a whiter, brighter smile is often one of the key ingredients to getting the perfect smile you desire. At Mirelez Wellness Dental we offer KöR professional teeth whitening, to help you effectively remove discoloration and beautify your smile.
Click here to learn more about teeth whitening.
Porcelain Veneers | Veneers for teeth are special pieces of porcelain that are designed to be attached to teeth for the correction of a number of cosmetic issues. Some of the cosmetic issues porcelain can be used for treatment include crooked, chipped, discolored, and even misshapen teeth.
Click here to learn more about dental veneers.
ClearCorrect | If you have wanted straighter, more beautiful teeth, ClearCorrect could be your answer. This wonderful straightening system uses clear aligner trays to straighten your teeth safely and effectively.
Click here to learn more about clear braces.
Tooth Bonding | Composite bonding for teeth is a safe and simple procedure for repairing teeth that have been cracked, chipped, or worn down. Dental bonding is also an excellent cosmetic dentistry approach for improving your smile by closing gaps between your teeth or making overlapping teeth appear straighter.
Click here to learn more about dental bonding.
Our team offers all of these services with the compassion you deserve from the comfort of our relaxing and modern office. We want our patients to have the beautiful, perfect smiles they desire, and are proud to offer cosmetic dentist services to help you accomplish your smile goals.
Contact Us Toady!
Have questions any about the cosmetic dentistry services we provide? Call us today if you are in the Fresno area, from Clovis to Madera!