Dental Veneers in Fresno & Clovis, CA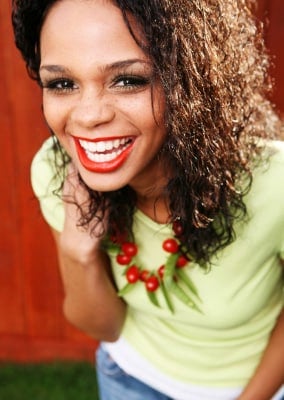 Porcelain veneers are a fantastic dental technology that has enabled many patients to have smiles of their dreams. Unfortunately, not all of us are born with perfect teeth, and life sometimes has a way of getting a smile down. With veneers for teeth, we can help correct the appearance of many of these cosmetic issues, and help you have the smile you desire.
A dental veneer is a specially crafted piece of porcelain that is made to correct cosmetic issues, and is attached directly to the problem tooth. Porcelain veneers from Mirelez Wellness Dental, located near Clovis and Madera, are custom-made for each patient, so that they look and feel great.
Veneers for teeth can be used for many different cosmetic issues, including:
Cracked teeth | If a crack has appeared in a tooth, in many cases veneers for teeth can be used to fix the appearance of the troubled tooth.
Broken teeth | A broken tooth can be a real problem. Thankfully, veneers for teeth can be used to restore the beauty and appearance of broken teeth.
Chipped teeth | If you have a tooth that has somehow become chipped, porcelain veneers can be used to successfully restore the appearance of your chipped tooth.
Discolored teeth | Having teeth that are discolored can be a problem, especially if it is just a few teeth that are discolored so it looks more obvious. We can use veneers for teeth to safely treat teeth with discoloration without the need for teeth whitening.
Mildly misaligned teeth | If you have a tooth that is mildly misaligned, a dental veneer can be used to correct the appearance of your misaligned tooth, without the need for orthodontia.
Misshapen teeth | Having a misshapen tooth –whether naturally, or because of damage you have received to that tooth – can really reduce the beauty of your smile. Using a dental veneer, we can repair misshapen teeth in most cases.
Our porcelain veneers are made of high-quality porcelain that is designed to be both beautiful and functional. We have the experience and the know-how to help your smile get back on track, and are proud to be able to offer porcelain veneers as a great treatment option.
Contact Your Fresno Veneers Dentist Today!
Have any questions about porcelain veneers or our other cosmetic services? Contact us today and schedule an appointment with veneers dentis Dr. Mirelez today if you are in the Fresno area, including Madera and Clovis!
Lionel Zozaya
I had a nice smile and then had a traumatic accident that messed up my smile. I chose to get implants and veneers to fix it and I love them. So far I had a friend who is going to Dr. Mirelez. I would recommend Dr. Mirelez and if you are not sure you can have a look at my smile. My teeth look great and I think my smile is awesome! Dr. Mirelez's implant dentistry got rid of my gap and helped me feel better about myself. Dr. Mirelez's staff is awesome and I love the service. Dr. Mirelez helped me to regain my self-confidence. Thank you, Dr. Mirelez!
Lionel Zozaya
Construction worker
Marlene Lopez
My teeth were very spaced out on top. I felt like I didn't have a pretty smile. I was very insecure about my smile. I got veneers and love my teeth now! My teeth look great. I feel confident about my smile. I would recommend Dr. Mirelez. He is very sincere about his work, honest and is great at what he does. My new teeth look Wonderful! I can't stop smiling! I love to show off my new smile. The staff is very professional, caring, and helpful and has positive attitudes.
Marlene Lopez