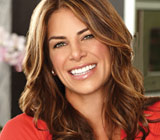 Protecting one's smile is important at any age. This is especially true for people who participate in contact sports or other activities where a trauma to the mouth can occur. While we all tend to believe that we are safe and that injuries "only happen to other people," we could not be further from the truth. Take, for example, Jillian Michaels, an accomplished author, business mogul, wellness expert, trainer and star of The Biggest Loser. She learned this invaluable lesson after breaking her two front teeth as a child and having them repaired with crowns. As Jillian stated in her interview withDear Doctor magazine, "Now, I generally wear a mouthguard if I am doing anything where my teeth have any chance of being knocked out."
We feel obligated to educate our patients so that you can make informed decisions about your oral health. This is why we put together the following brief list of research findings.
Did you know?
According to the American Dental Association, an athlete is 60 times more likely to suffer harm to the teeth when not wearing a mouthguard.
The US Centers for Disease Control reports that sports-related dental injuries account for more than 600,000 visits to the emergency room each year.
People who do not have a knocked-out tooth properly reserved or replanted may face a lifetime cost of $10,000 to $20,000 per tooth, according to the National Youth Sports Foundation for Safety.
The Academy of General Dentistry estimates that mouthguards prevent more than 200,000 injuries each year.
If feel you and/or your children need a custom-fitted, professionally made mouthguard, contact us today to schedule an appointment. During your private consultation, we will conduct a thorough examination, listen to your concerns, and answer all of your questions as we discuss the best methods for protecting your investment — your own, or your children's, teeth.
To learn more about mouthguards, continue reading the Dear Doctor magazine article "Athletic Mouthguards, One of the most important parts of any uniform!" And to read the entire interview with Jillian Michaels, please see the article "Jillian Michaels — The Biggest Loser's health and wellness expert talks about her oral health, keeping fit and plans for the future."